HEALTHY START. THE BEST CHILDREN'S VITAMINS
During the development of the child's body, the need for the intake of all vitamins and trace elements should be as balanced as possible. Psycho-emotional and physical state directly depends on their deficiency or excess. When choosing supplements and vitamins, doctors advise pre-testing. And, despite a good indicator, a growing body always needs to maintain a sufficient amount of trace elements in the body.
What vitamins are better? We conducted market research, evaluated the results and compiled the TOP 7 best children's vitamins. The vitamins were evaluated according to the following parameters:
hypoallergenicity;
digestibility;
compliance with international standards;
opinion of doctors about the ingredients of the vitamins;
results of clinical trials at the development stage;
honest feedback from parents and children.
1. ANIMAL PARADE, CHILDREN'S MULTIVITAMINS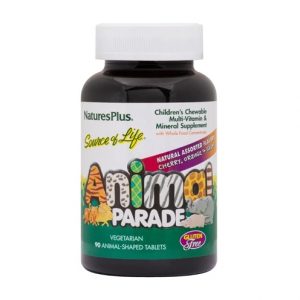 Animal parade is the market leader in vitamins for children. The vitamins differ from analogues by certification according to the Organic Gold Standard, which provides a natural and hypoallergenic composition of the product. Vitamins from Animal Parade are not only approved by doctors, but have also repeatedly won international competitions. The multivitamins contain 500 IU of vitamin D3, 50% of the Daily Value of vitamin K2, an increased dose of micronutrients, prebiotics and a variety of natural whole foods. Capsules are made in the form of tropical-flavored animals that children love.
Pros:
international certification;
the ingredients are approved by leading doctors;
natural ingredients;
gluten free, sugar free;
contains 500 IU of vitamin D3;
original form of capsules and pleasant taste.
Cons:
many fakes, it is only worth buying from official suppliers.
2. L'IL CRITTERS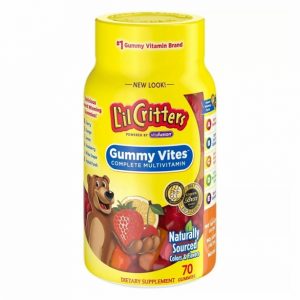 Multivitamins from the American manufacturer. A convenient form for children as chewable tablets. The company is the winner of the international competition in 2018. Each capsule contains 11 essential vitamins and minerals. An ideal composition for maintaining immunity and healthy bones. There are several flavors in a pack, which is not very effective, since children can only like one of them.
Pros:
11 trace elements in each tablet;
safe ingredients;
convenient economical packaging;
recommended for children from 2 years;
good value for money.
Cons:
lid without child protection;
assorted flavors, the child can like only one flavor and ignore the rest.
3. BEST OVERALL: SMARTYPLANTS KIDS COMPLETE DAILY GUMMY VITAMINS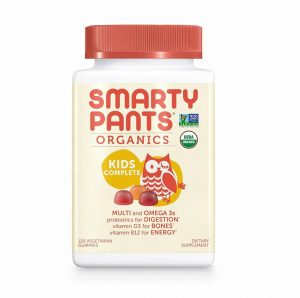 Premium children's multivitamins. Vitamins have passed international testing and do not contain GMOs, soy, allergens. Each capsule includes 15 beneficial ingredients: vitamin D3 for bone health and immune support, vitamin B12 (methyl cobalamin) for energy, EPA and DHA omega-3s (from fish oil), vitamin E (from sunflower oil) for antioxidant support, and iodine for the normal functioning of the thyroid gland. Vitamins do not require special storage conditions, which is very convenient.
Pros:
hypoallergenic;
the composition was developed by doctors;
can be taken with or without food;
No synthetic colors or flavor enhancers.
Cons:
recommended dosage — 4 capsules per day;
difficult to find, long delivery;
contain sugar.
4. BEST WHOLE-FOOD BASED: MEGAFOOD KIDS ONE DAILY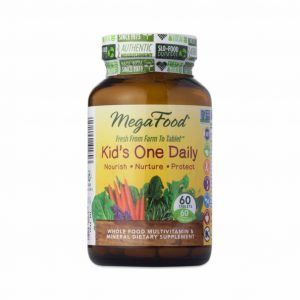 The multivitamins that have passed several international certifications. Ideal for children over 5 years of age. Each capsule contains vitamins D3, B12 B6. Gluten free certified by NSF. Children like vitamins for their fruity taste. 1 capsule is enough at any time during the day to replenish the norm of trace elements and minerals.
Pros:
optimal size, easy to swallow;
only natural ingredients;
can be taken throughout the day.
Cons:
low concentration of useful substances in comparison with analogues.
5. DOPPELHERZ KINDER MULTIVITAMINS
The German supplements have established itself on the market as hypoallergenic. Vitamins have an absolutely natural composition, do not contain preservatives and dyes. The drug is known for increasing the immunity and protective functions of the child's body due to the high content of vitamin C. Children take them easily and with pleasure. It is convenient that the daily dose is 1 capsule, and the package is designed for the whole course.
Pros:
natural composition without preservatives;
convenient form of packaging;
good composition of vitamins.
Cons:
sometimes vitamins «stick together» in a jar with each other and are difficult to get;
many fakes.
6. GARDEN OF LIFE, VITAMIN CODE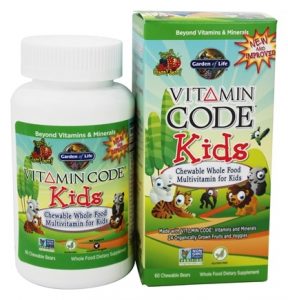 Children's multivitamins in the form of chewy bears with cherry flavor. As part of 26 extracts of fruits and vegetables, which Vitamins have been certified NSF — Certified Gluten Free for gluten-free. The multivitamins contain prebiotics, which helps to form a healthy microflora of the child and relieve digestive problems.
Pros:
no artificial colors and preservatives;
prebiotics in the ingredients;
international quality certificates.
Cons:
high price;
presented only on foreign sites.
7. TRACE MINERALS RESEARCH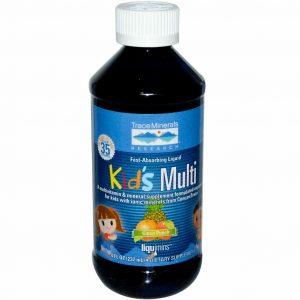 Vitamins in liquid syrup form. Alternative to chewable capsules, tablets and powders. A complex from a 35-year of history brand. Formulated with over 72 beneficial ingredients to support your child's overall wellness and health. It is recommended to store it in the refrigerator, for children under 2 years old only as directed by a doctor.
Pros:
international development;
a product without gluten and artificial colors;
balanced
Cons:
— a complicated instructions for use for children of different ages.
Children's vitamins are on the market in the form of tablets, chewable capsules, powders and syrups. Almost all of them have a pleasant fruit or berry flavor based on natural ingredients. It is important to pay attention to the ingredients of the multivitamins: is there sugar, does it contain allergens, what is the concentration of useful substances.
Please note that the supplements must be recommended by doctors and have international certification. Choose vitamins from official distributors, but do not forget about a balanced diet and a child-friendly environment.
IMPORTANT: before taking any supplements — consult with a specialist.